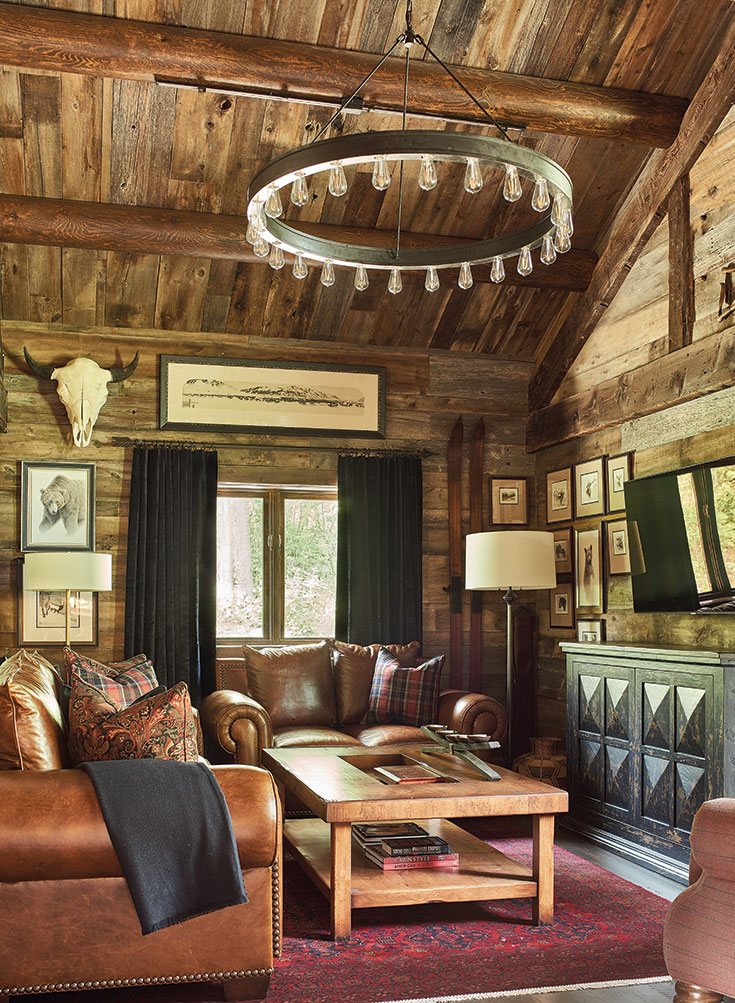 In the sea of contemporary projects permeating the valley, one couple's clear vision for the old shelter on their new Fall Creek property stood out as singular. Immediately evocative, Ryan and Kristy Rans' design decree was: Transform the humdrum structure into a classic rustic cabin, with every surface sheathed in barnwood and every room filled with commodious, overstuffed furniture.
Rising to the challenge, interior designer Colleen McFadden-Walls, of Willow Creek Design Group, builder Steve Stuchal, of Serenity Builders, and landscape architect Ben Bartlett, of Growin' Green, reimagined the wooded property into a throwback refuge reminiscent of a historic hunting and fishing lodge. For this first phase of the property's redevelopment, the Ranses charged the team to think Ralph Lauren luxury meets mountain functionality.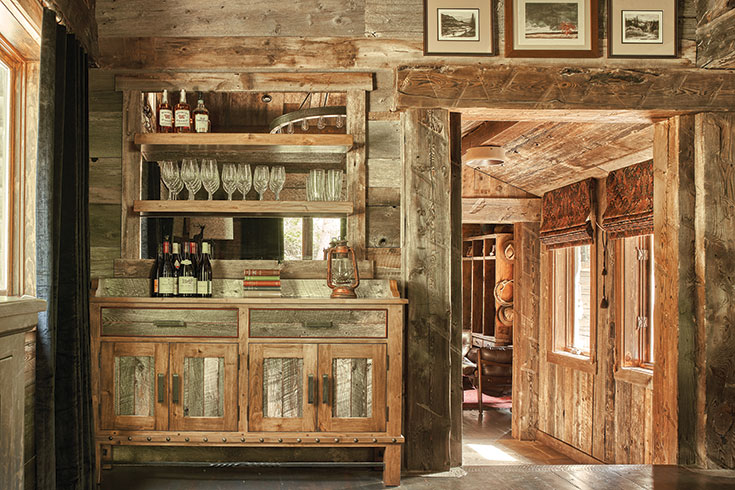 Sourcing reclaimed timber from Ridgeline Log and Timber, Stuchal covered every structural surface in rugged planks and refinished the hardwood floors, removing the original red to match the dark brown of the barnwood. To complement such texture and tone, McFadden-Walls applied a warm, dark palette to the custom furnishings, all designed by local artisans: a rich brown, studded leather sofa and matching loveseat made all the more plush with tartan and paisley pillows; striped natural linens tucked over the king bed, which sits atop a barnwood platform frame; navy drapes bordered in plaid folding graciously over the big windows in the master bedroom.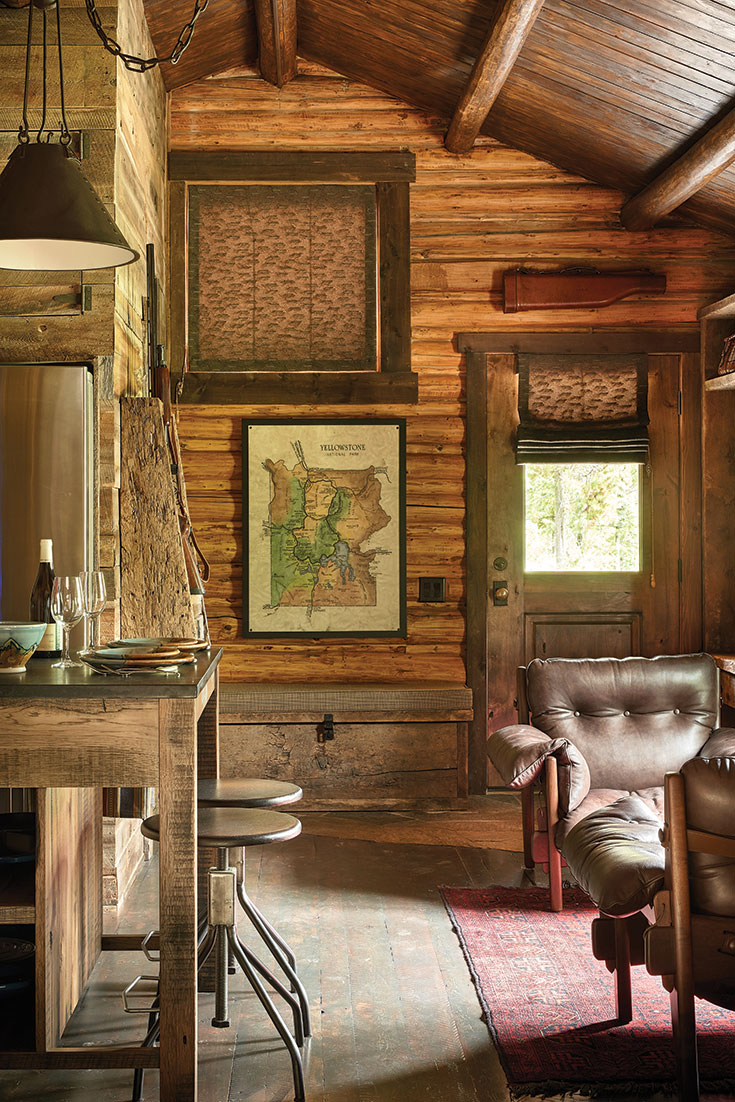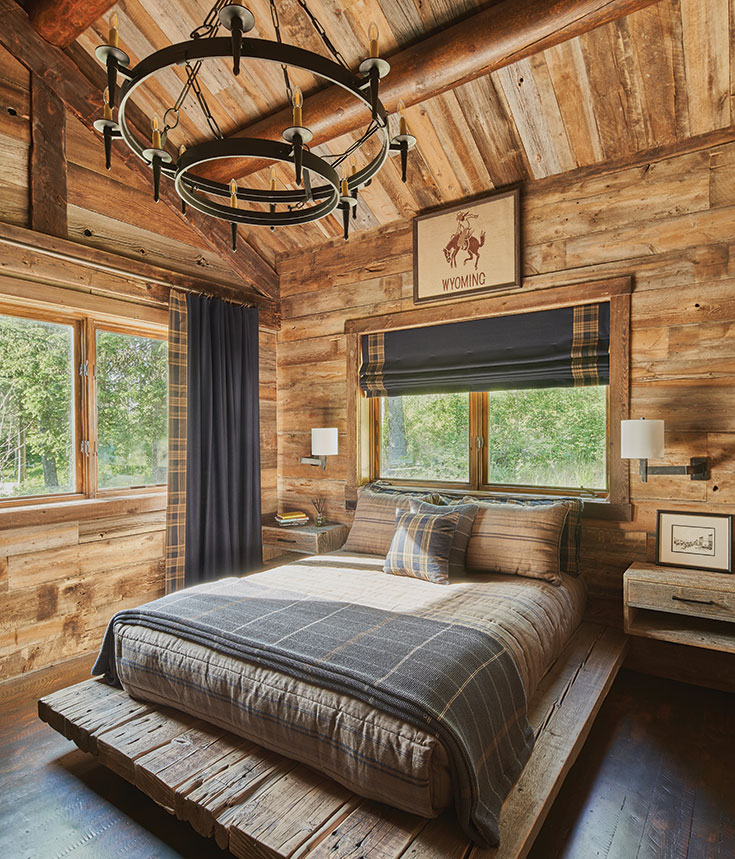 Working within the concise footprint, McFadden-Walls was able to create many character-rich vignettes. A pair of leather sling club chairs atop a crimson Oriental rug invite repose. Metal stools allow for perching beside the kitchen island. And the barnwood cubbies flanking the front door make a ritual of disrobing after outdoor adventures. For the pièce de résistance, the designer curated a gallery wall in the living room featuring antique area maps and vintage Yellowstone and Jackson Hole landscape and wildlife photography. Scouring many sources, she amassed pieces conveying personality of place and anchoring the project in historical memory.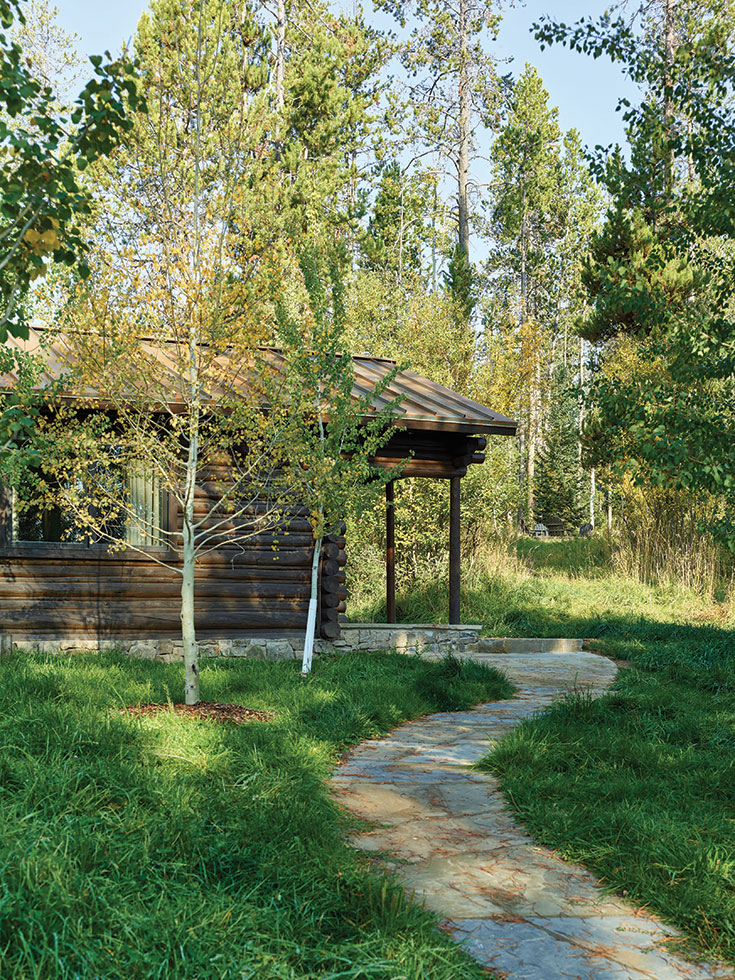 Untethered to a signature aesthetic, McFadden-Walls loved embracing a style
so different from the pack—a design scene she knows well, having owned Willow Creek Home Furnishing on the Town Square for 25 years. Since retiring from retail, she has partnered with senior designer Renee Crawford. Together, they launched Willow Creek Design Group. True to her philosophy as a designer, McFadden-Walls sees her role as helping her clients' visions come to fruition. "I listen to my clients' wishes and take them in that direction as best I can," she says. "The Ranses described and defined their goals very well, and I helped them get there."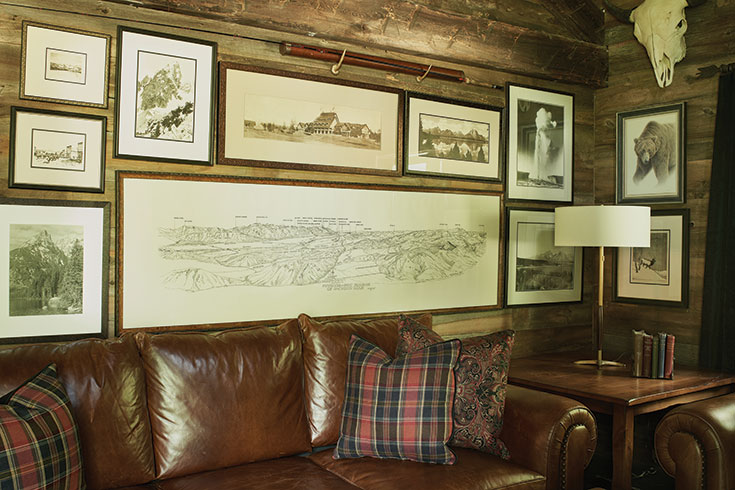 Stuchal underscored the clear direction given by the Ranses and their bestowal of trust-based free rein to realize their vision as the team saw fit. "Ryan would send us a picture and say, 'This is what I want the cabin to look like, with a fishing net on the wall and a custom gun rack out of barnwood,'" the builder recalls. While some people may say they want a "rustic" cabin, that image often falls short of the conveniences they ultimately desire. Not so with this client. Stuchal appreciated his unwavering commitment to the concept, which spilled beyond the interior to inform the exterior as well. For instance, Rans deemed the original standing-seam metal roof to be too contemporary, requesting instead a rusted version. And when parts of the foundation surfaced, Stuchal sourced Montana moss rock to patch over it, dousing the rocks in beer to activate the moss—the epitome of "no stone left unturned" in the team's quest for rustic authenticity.